Sweetheart Raffle Information & Winners
---
An extensive and exciting raffle table will be set up at the Tri Leisure Centre ("Tournament Headquarters"). The tickets can be purchased in a package or as individuals. Ticket packages are 20 raffle tickets for $20.00. Individuals are sold for $2.00 each. Tickets for the Raffle will be sold until 11:00 am on Sunday, February 19, 2023. Raffles will be drawn and winners announced at the TLC at 12:00 pm on Sunday, February 19, 2023, they will also be posted on our Sweetheart Tournament webpage under Sweetheart Raffle Information & Winners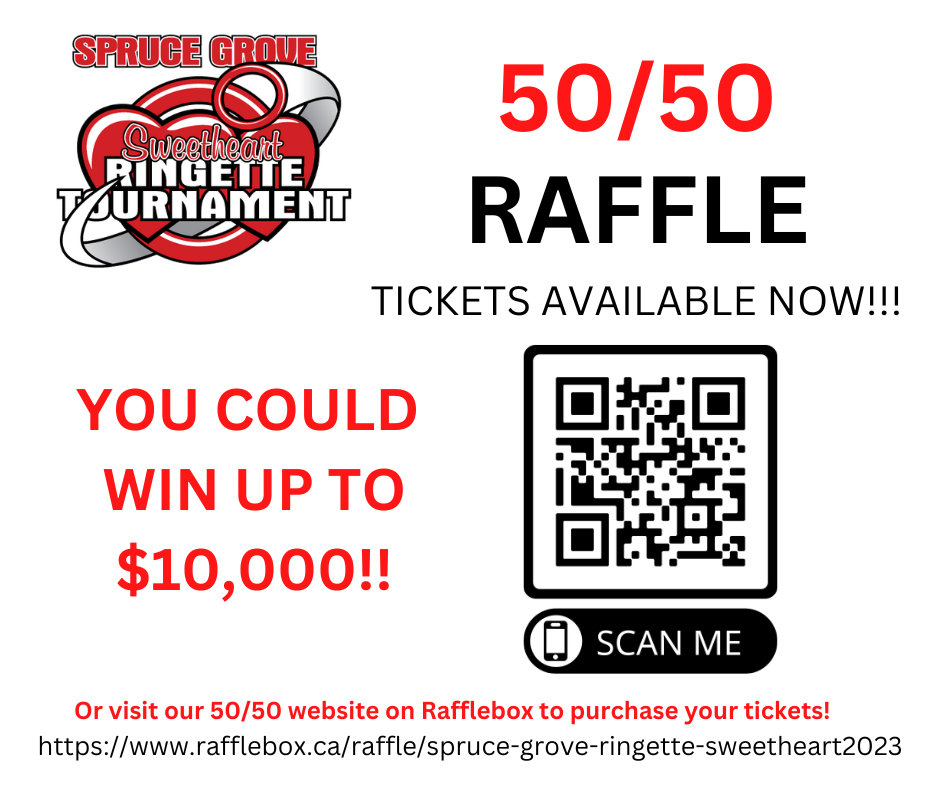 The Sweetheart Silent Auction will be held next to the raffle table at the Tri Leisure Centre and will have a variety of auction items throughout the weekend. The silent auction will close Sunday, February 19, 2023, at 7:00 p.m.
The following opportunities will also be available at the raffle table at Tournament Headquarters:
Our 50/50 will be live for ticket sales starting February 5th, 2023 until 5:00pm on February 19th, 2023.
Winners will be posted both on the Rafflebox 50/50 page as well as under Sweetheart Raffle Information & Winners on our tournament webpage.
The following tickets are available:
100 tickets for $100.00 (quantity available 9000)
20 tickets for $50.00 (quantity available is 2600)
4 tickets for $20.00 (quantity available is 840)
1 ticket for $10.00 (quantity available is 30)
Pick a sucker for a chance to win a prize! Sucker trees also at Stu Barnes/Grant Fuhr and Glenn Hall.
If you happen to pull a lollipop with a black end you win a candy bag (up to 450 winners).
For those that are lucky enough to get a red end (up to 225 winners), You can put your name and number into a draw for a $100.00 candy tower. Check it out at the registration desk at Tri Leisure.
Sweetheart Lottery Board - $5.00 each
buy a chance to win $300 in scratch n' win lottery tickets.
the winner is drawn at 12:00 pm Sunday, February 19, 2023
All proceeds from the Sweetheart Lottery Board will be donated to KidSport
Accepted payments: Cash, Debit or Credit Card
Please note: ATM machine is located on-site at the TLC. Additional ATMs can be found across the parking lot at Boston Pizza or Holiday Inn
CONGRATULATIONS TO THE 2023 RAFFLE WINNERS!!
FISHBOWL OF FIVES - Lisa Benjamins
WELLNESS BASKET - Troy Fleece
LOL BASKET - Marla Krankowsky
LEGO GIRLS BASKET - Scott Wearer
SQUISHMALLOW BASKET - J. Syskakis
LEGO BOYS BASKET - Curtis Allwright
GAMES BASKET - Angela Hunter
SPEAKER AND GIFT CARD - Loreen Foster
BEER PONG TABLE & ITEMS - Tanis Marshall
YETI BASKET - Tara Chesney
ZYIA BASKET - Ali Manz
M&M BASKET - Tonya Atzesberger
AIRPODS - Colleen Wagner
GIFT CARD BASKET - Carolyn Normand
LULU BASKET - Eileen Cederstrand
WEM GIFTCARD - Jordan Fleck
OILERS / ADULTS BASKET - Janice Froese
CONGRATULATIONS TO THE 2023 LOTTO BOARD WINNER!
CONGRATULATIONS TO THE 2023 TOONIE DROP WINNER
2023 RAFFLE BOX TOTAL RAISED $6,280.00 - THANK YOU TO EVERYONE WHO PARTICIPATED
OUR WINNER THIS YEAR - Marion Szewczuk